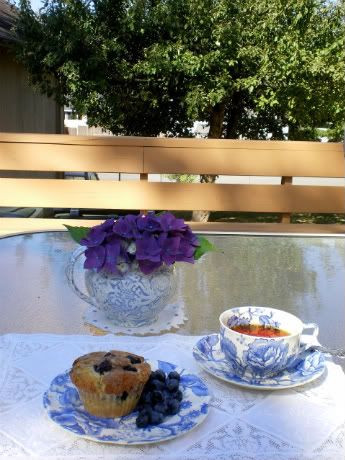 Meet my Guest:  
Ellen B from The Happy Wonderer
It feels like I've known Ellen for years, when we've never actually met. There's a standing invitation for Ellen to stop by anytime, as she travels up and down the I-5 (she owns 2 homes on the West Coast).  I think you'll love her blog.  She's a true hospitality-sister at heart! And one of my favorite posts of Ellen's was when she made my Mango Crockpot Chicken. Love her pictures - so yummy!
Here's Ellen ...
I'm thrilled to be guest posting for Sandy. I think I started reading Sandy's blog before I even had a blog. I was raised by a mom who modeled hospitality and still entertains at 85. The fresh ideas I learn from 4 Reluctant Entertainers blog are an inspiration to me. Sandy and I live in neighboring states when I'm in California at the condo or in Washington at my home. Someday I'm hoping to meet Sandy face to face if not on this earth then in my mansion in heaven at a banqueting table.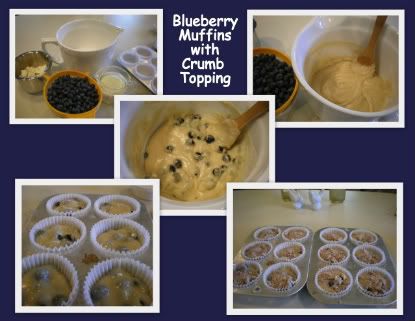 I have a Blueberry Bush at my home in Washington and I picked some fresh blueberries and decided to make muffins. I got all the dry ingredients together, then I got the wet ingredients ready only to realize we were all out of eggs. The oven was preheated the trays were ready so what to do? I trekked over to my neighbors in my slippers and comfies and asked to please borrow an egg. She was very gracious and invited me in and gave me an egg. I got to meet her 16 month old granddaughter who she was caring for, also.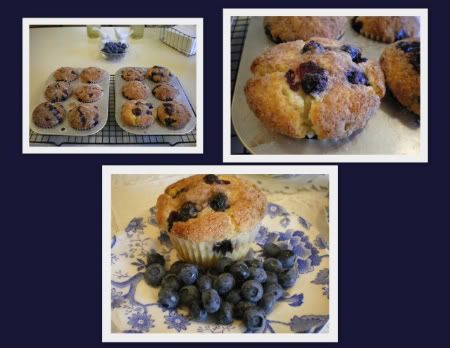 After the muffins were baked and out of the oven. I picked out two and trekked over to my neighbors again and offered her the 2 muffins. She was delighted and said I could borrow an egg anytime. I was happy to receive from my neighbor and bless her in return. 
My poor planning turned into an opportunity to keep connected with my neighbor.
The recipe I used for these Blueberry Muffins can be found here. 
Sandy and I would love to hear about your favorite ways of cooking with blueberries?